Eskdalemuir rainfall highest on record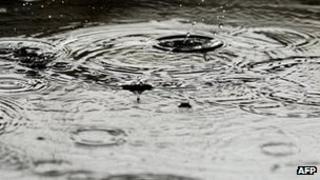 Rainfall statistics from a south of Scotland weather station have shown that 2011 was the wettest year ever recorded in the area.
The Eskdalemuir site in Dumfries and Galloway saw 2,289mm of rain - about seven and a half feet - over 12 months.
The Met Office figures confirm that was 66mm more than the previous wettest year in the station's 100-year history, which was recorded in 1928.
Every single month of 2011 saw above average rainfall levels.
Other data released by the Eskdalemuir Observatory showed that the mean temperature for 2011 was 8.13C - well above the average of 7.18C.
The coldest night was on 7 January at -10.1C while the warmest day was the 3 June when temperatures hit 24.4C.
April turned out to be the sunniest ever recorded in Dumfriesshire with the number of hours of recorded sunshine coming in at 198, which was an hour more than in the same month in 1942.