Scottish Borders library merger move 'not cost-cutting'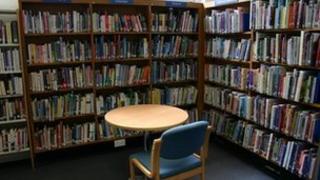 Scottish Borders Council has said moves to merge its libraries and contact centres in six towns are not "primarily a cost-cutting exercise".
It said it would "improve performance" and also allow the services to continue on a "sustainable basis".
The plans have generated public opposition, including a petition against them in Innerleithen.
However, SBC insisted the move was "good news" for the region and meant no libraries would have to close.
Contact centre services will be combined with library services in Jedburgh, Kelso, Duns, Coldstream, Innerleithen and Selkirk.
In most of those locations, the service will be within the existing library but further consultation is planned over the site to be used in Selkirk.
The council has agreed to remove Melrose from its plans.
Cllr Graham Garvie said: "This is not primarily a cost-cutting exercise.
"However, by bringing libraries and contact centre services together we can secure savings and retain the full range of services delivered from library and contact centres to ensure that both stay locally available.
"The Library and Information Service restructure will modernise the service and result in the development and improvement of both the quality and range of services offered to the public."
The council has estimated it can save about £130,000-a-year in revenue costs by making the move.
It said there would also be property cost savings and it could generate capital through the sale of surplus buildings.