Galashiels snow crash injures police officer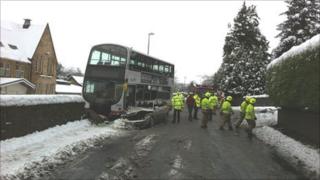 A female police officer is in hospital with back and neck injuries after her car was in collision with a double decker bus in snowy conditions.
The crash happened at about 10:30 on Melrose Road in Galashiels.
Fire crews were sent to the scene to cut free the woman who was off-duty at the time.
The 38-year-old was taken to Borders General Hospital for treatment and there were no reports of any other injuries. The road has since reopened.