Bill could lead to release of Lockerbie appeal details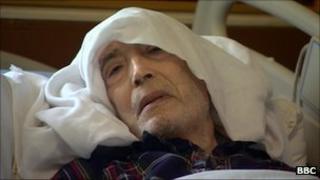 The Scottish government has published a bill which could permit publication of information about the case of the only man convicted of the Lockerbie bombing.
It would let the Scottish Criminal Cases Review Commission decide whether information it gathered and referred to the Appeal Court should be published.
Abdelbaset al-Megrahi abandoned his second appeal days before he was sent home to Libya on compassionate grounds.
Campaigners want case papers released, but that has been prohibited by law.
Justice Secretary Kenny MacAskill said the Criminal Cases Bill could allow the information to be published.
He said it was a "key step" in the Scottish government's track record of "openness and transparency" in the case of Megrahi, the only man convicted of the 1988 atrocity in which 270 people were killed.
The Scottish Criminal Cases Review Commission, which looks into possible miscarriages of justice, had referred the case to the appeal court.
The legislation gives the body discretion on disclosing information concerning cases it has referred to the High Court for appeal against conviction, which have subsequently been abandoned or have fallen.
It is also hoped the Criminal Cases Bill will close a legal loophole, where people serving life sentences can currently apply for release on parole earlier than prisoners serving fixed length jail terms.
Public protection
The move came in the wake of the case of former Edinburgh paedophile gang member Morris Petch, who has had his minimum sentence for raping two girls cut to eight years by appeal judges.
Ministers were also convinced to act following another decision by the appeal court to halve the minimum term given to Robert Foye, who raped a schoolgirl while on the run from prison.
Under the bill, the courts will regain powers to set the "punishment part" of sentences, which offenders much serve before being able to be considered for parole.
Justice Secretary Kenny MacAskill, said: "Protecting the public and punishing serious offenders is the priority here and this bill will ensure that our courts have the sentencing powers they need to make sure that punishment is always appropriate to the offender's crime.
"Parole should certainly not be considered for prisoners who have not fulfilled what the court deems to be an adequate period of punishment."
The bill would need to be passed by MSPs before becoming law.