Innerleithen to get fastest broadband speed in Scotland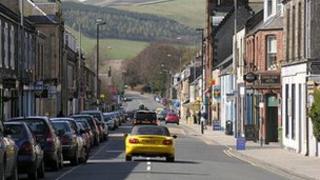 A small Borders town is to get the fastest broadband speeds in Scotland after winning a BT competition.
BT has announced that Innerleithen is to become the first place in the country to benefit from fibre to premises superfast broadband (FTTP).
The town won the Race to Infinity Competition earlier this year.
BT said it would allow the area to "streak ahead of other Scottish communities" and straight to "the forefront of Digital Britain".
Officials from the company visited the town this week to brief campaigners and residents about the upgrade.
They already knew they were in line for major improvements after winning a UK-wide competition in January, but precise details had not been announced.
BT has now confirmed that Innerleithen is in line for fibre to the cabinet superfast broadband (FTTC) - currently being rolled out across Scotland - but also the even faster FTTP service, which allows speeds of up to 300Mbps.
'Fantastic news'
BT Scotland's partnerships director James McClafferty said: "This is fantastic news for the people of Innerleithen and the campaigners who have fought hard to win faster broadband for the town.
"With a mix of fibre to the cabinet and fibre to the premises technologies, Innerleithen will streak ahead of other Scottish communities and become the best connected place in Scotland.
"BT is investing thousands of man hours in this upgrade and installing 112 kilometres of fibre to give Innerleithen one of the highest percentages of fibre coverage to be found anywhere in the UK."
He added: "At a time when organisations around the UK are seeking investment partners to bring superfast technologies to their areas and give them a competitive edge, Innerleithen has shot straight to the forefront of Digital Britain."
It is hoped the company should be able to accept orders for the new superfast services by March next year.