Alex Salmond outlines Loch Ryan port support plans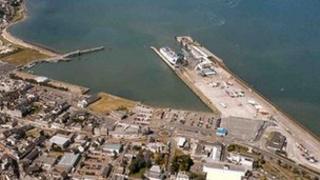 First Minister Alex Salmond has outlined transport and regeneration plans to support a new ferry port in Dumfries and Galloway.
He was in the region to officially open Stena Line's £80m facility for Irish Sea services at Loch Ryan.
He said improvements to roads and rail infrastructure were in the pipeline to "make the most" of the new port.
A regeneration task force for Stranraer will also be created after ferry services moved out of the town.
Mr Salmond said he wanted the Scottish government to play its part in supporting a major investment in the south west of the country.
Roads and rail improvements on routes leading to the area were highlighted as a key element of that process.
He said work on the A75 Dunragit bypass would start "as soon as capital funds become available" and work would start on statutory permissions for the Maybole bypass.
Mr Salmond added that although Ayr had been selected as the main interchange for bus services to the ferries, this did not mean the line further south would be "neglected".
He said direct services between Glasgow and Stranraer would use a different route from next month, cutting about half an hour from journey times.
He also announced the creation of a taskforce, headed by Infrastructure Secretary Alex Neil, to help regenerate the waterfront area in Stranraer which has been vacated by Stena Line.
He said it would work with the council and other agencies to "explore the potential for the future" for the area.