The Scots boys who left for Hudson Bay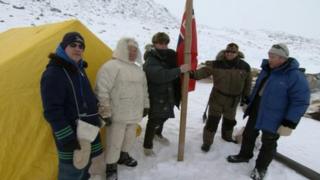 Most of us, at one time or another, may have thought about starting a new life in another part of the world.
Very few, however, would consider the frozen extremes of the Canadian Arctic as their ideal destination.
Yet it was to that testing location that young men left Scotland from the 1960s to 1980s to take up work for the Hudson's Bay Company.
And, even when the fur trade they were involved in collapsed, many of them chose to remain.
Their story is being told in a new BBC Scotland documentary, The Hudson's Bay Boys, to be screened next week.
Among their number was John Graham who left the family farm - Sunnycroft, Lindean near Selkirk - in 1976.
"I went to Frobisher Bay in the North West Territories which at that time had a population of about 1,700," he said.
"By virtue of living on the farm, that was the biggest town I had ever lived in in my life.
"I think the fact that I grew up on the farm and was used to a hard day's work made it a lot easier."
He said he did not find it difficult to fit in to his new surroundings.
"Scottish people adapt to a situation like that exceptionally well," he said.
"When you are 18 years of age and you are off on an adventure like that you don't see people as any different from yourself really and I have always lived that way."
He ended up marrying an Inuit woman and they have five children - well aware of their Scottish roots.
"All of them have been over in recent years and visited the old homestead down in the Borders," he said.
John Todd, originally from St Andrews, left in search of employment.
"In 1965/66 there was big mass outward migration to Australia or Canada and I had seen an advert in the Dundee Courier saying 'Adventure in the north for young men'," he said.
He proved to be a hugely successful businessman and also pursued a career in politics and rose to the post of finance minister in the North West Territories legislature.
It was about the same time that Jim Deyell left Shetland and ended up working for the Hudson's Bay Company and its successor, The North West Bay Company, until he retired three years ago.
He ran general stores in outposts across the area but his duties were often much wider than any ordinary shopkeeper.
They included delivering four babies, pulling teeth and giving rabies injections.
Another Bay Boy was Neil Greig who left Edinburgh for a remote community on the edge of the Arctic Circle as a teenager in 1967.
"I was wearing a Scottish tweed jacket, a white rain coat and it was about -17C on the ice - so I wasn't exactly dressed for it," he recalls.
However, he adapted quickly and went on to manage a fish processing plant and help set up airlines in the area.
One of the last Scots to leave for the Arctic was Donald Mearns from Aberdeenshire.
With no work on the family farm he set off in 1981 and also settled quickly and married a local woman and started a family.
He also maintains some strong Scottish traditions in the area by playing the bagpipes at weddings across the Arctic and an annual Burns Supper.
These pioneering men recently came together for a hunting trip reunion to recall their adventures.
And it is surely a story a little more remarkable than your average relocation tale.
The Hudson's Bay Boys is on BBC2 Scotland at 21:00 on 30 November.