South of Scotland superfast broadband secures funding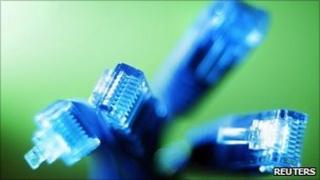 The Scottish government has announced funding worth £5m to plans to deliver superfast broadband to every home in the south of Scotland by 2020.
Infrastructure Secretary Alex Neil said delivering such services to rural areas was a "key priority".
Plans to get Next Generation Broadband (NGB) to both Dumfries and Galloway and the Borders were drawn up by the South of Scotland Alliance umbrella group.
Board member Tracey Logan said the funds would help towards that goal.
Mr Neil said: "Access to NGB will prove hugely beneficial to the south of Scotland, helping existing business to expand, attracting new businesses to the area and connecting communities."
He added that the funding allocation would help get the project up and running as well as "lever in further funding".
Ms Logan, who is chief executive of Scottish Borders Council as well as a SOSA project board member, said the support was welcome.
"At the rate of technological development, we absolutely cannot underestimate the importance of ensuring we can secure NGB services for the south of Scotland," she said.
"This initial investment will enable us to move towards providing essential services to every one of our rural communities."