Milk Link Lockerbie expansion goals 'ahead of schedule'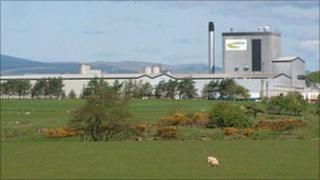 Dairy giant Milk Link is ahead of schedule in finding supplies for a £20m expansion of its Lockerbie plant.
The firm announced the investment earlier this year in order to make the site "one of the UK's leading cheddar production facilities".
The company said it had already secured more than 40% of the supplies it needed for the site.
It is also following up interest in providing milk for the new facility from more than 250 further farmers.
Milk Link announced the investment in its Lockerbie plant in September this year.
It will allow the site to increase the amount it produces by about 50% to more than 37,000 tonnes of cheese a year.
Shelagh Hancock, director of Milk Link's milk business unit, said she was "delighted with the positive response" from suppliers.
She said she believed dairy farmers were being attracted by their "competitive milk price" and the chance to be part of a "strong and forward-looking, farmer-owned co-operative".