Queen of the South losses reduced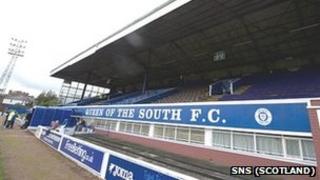 Queen of the South Football Club has posted an operating loss of just over £250,000 for last season.
It marks an improved financial position for the Dumfries club who were £450,000 in the red in the year before.
In a report to shareholders, the Scottish first division side revealed that it had cut its playing budget by £300,000 this season.
The board of directors said the cost of the squad, assembled by the manager Gus MacPherson, was now more realistic.
Most of the football staff are now on one-year contracts - a policy which is likely to continue.
The Dumfries club has also helped its finances by selling off a small area of ground outside Palmerston Park - a move which has boosted the accounts by more than £120,000.
The latest set of financial results will be presented to shareholders next month.
Queen of the South currently sit bottom of the Scottish first division on goal difference.