First ferries leave new Stena Line Loch Ryan port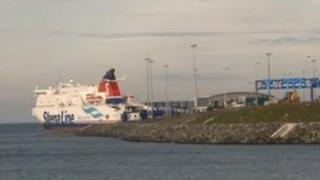 The first ferries have left a new £200m port facility built by Stena Line in south west Scotland.
The company's last sailings from Stranraer took place at the weekend before it completed the move to its facility nearer the mouth of Loch Ryan.
Stena Line said the development would ensure it had a future in south west Scotland for years to come.
The site was selected to help to cut both the costs and the travel times to Northern Ireland.
As well as the new port, the company is also using two new ferries, Superfast VII and Superfast VIII, which it said were the largest ever to sail between Scotland and Northern Ireland.
Wider masterplan
Irish Sea route director Paul Grant said there was a "great sense of excitement" about bringing the facilities into use.
"This is the investment that we have all been waiting for," he said.
"It is going to be a great operation and a great service."
The move, however, leaves a significant void in Stranraer and a 10-acre industrial site at the East Pier that needs to be re-developed.
Dumfries and Galloway Council's economic development manager Ewan Green said it was part of a wider masterplan for the whole waterfront area.
He said "marine leisure" was seen as the key to taking the town forward.
"We already have a marina, we want to expand the marina facilities," he said.
"We want to work with all the landowners that are involved on the waterfront to bring forward new leisure and retail opportunities for the town."
He said that would be more attractive for locals and visitors alike and help turn Stranraer into a "destination" in its own right.