Scotland-Northern Ireland sea crossing security studied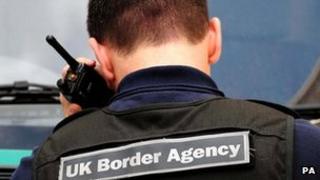 Ministers, police and the Border Agency are to study security on sea crossings between Scotland and Northern Ireland.
They will meet for talks at the new Stena Line port near Cairnryan in south west Scotland on Monday.
Scottish Justice Secretary Kenny MacAskill and Northern Ireland Justice Minister David Ford will attend.
Mr MacAskill will raise concerns about the removal of funding for three police officers who dealt with illegal immigration at Stranraer.
Ferry operator Stena Line is leaving its base in the town to move to a new facility nearer to the mouth of Loch Ryan.
Representatives of Dumfries and Galloway Constabulary, the Police Service of Northern Ireland (PSNI) and the UK Border Agency (UKBA) will be involved in the discussions.
Last year the UKBA announced it was cutting the funding for the three officers based at Stranraer.
Mr MacAskill said: "The security of our sea crossings is vital and the Scottish government takes the policing of our borders and ports very seriously.
"I want to commend police on both sides of the water for all of their hard work ensuring our increasingly busy ports are secure.
"However, I am keen to ensure that following the withdrawal of UKBA support in Stranraer, police are not put under additional pressure due to routes between Northern Ireland and Scotland being exploited."
The justice secretary said he had raised his concerns with Home Office ministers in the past and would continue to do so.
Labour MP for Dumfries and Galloway, Russell Brown, welcomed the meeting between Scottish and Northern Irish ministers and the UKBA.
He has previously criticised the decision by the coalition government at Westminster to pull the three police officers out of Stranraer, and will lead an adjournment debate on the issue in the House of Commons later this week.
Mr Brown also criticised the SNP government who he claimed had axed 11 police officers from the port.
He said: "It is shocking that the UK government is seeking to make savings by reducing security at Stranraer. Nothing is off limits when it comes to their rush to cut faster than is safe.
"But crocodile tears from the SNP government will fool no-one here. They made their position clear when they cut 11 officers from the port two years ago. It is utterly hypocritical to now jump on the bandwagon and start shouting about further cuts."
Mr MacAskill and Mr Ford will also tour the new facilities at Loch Ryan and discuss opportunities for greater collaboration between forensic laboratories in Scotland and Northern Ireland.