Threave and Rockcliffe 'creepy-crawlies' study complete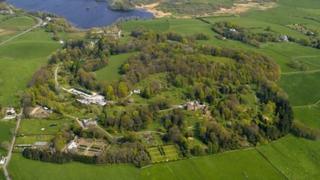 A study of invertebrates on two Dumfries and Galloway estates has found three species that are new to Scotland.
The survey, commissioned by the National Trust for Scotland, was carried out at Threave and Rockcliffe.
It found three types of fly previously undiscovered north of the border as well as an "extremely rare" ladybird.
NTS nature conservation adviser Lindsay Mackinlay said the study found 40 species deemed "significant in terms of biodiversity and conservation".
The work, supported by Scottish Natural Heritage, found the flies Thaumatomyia rufa, Holocera lamellate and Chorisops tibialis for the first time in Scotland.
'Extremely rare'
Mr Mackinlay said the discovery would help develop a clearer understanding of importance of invertebrates and their habitats.
"Although most people look on them as 'creepy-crawlies', invertebrates play a vital role in ensuring the sustainability of our environment," he said.
As well as the new types of fly, the survey - carried out between 2009 and 2011 - made another surprising discovery.
"The survey discovered a ladybird at Rockcliffe which is extremely rare in Scotland," Mr Mackinlay said.
"The official name is Subcoccinella vigintiquattuorpunctata, which refers to the 24 spots on its wings.
"However we're looking to see whether any of our visitors can come up with a more uniquely Scottish, and certainly a much shorter, nickname."