Scottish Borders Council defends legal cost levels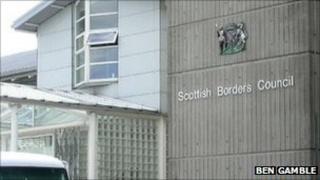 A council leader has defended his authority's spending of more than £300,000 on external lawyers over the past three years.
Scottish Borders Council's expenditure was revealed in response to a Freedom of Information request.
The authority's own legal team was recently recognised as being one of the best in the country.
However, leader David Parker said it was a small department which sometimes required "expert help".
SBC has turned to private, commercial and corporate lawyers based outwith the region on more than 100 occasions according to the FoI figures.
Fees of more than £20,000 each were spent on legal representation on a superstore planning war in Kelso and a fatal accident inquiry into the death of a primary school head teacher.
According to the figures, the total spend over three years was £293,548, excluding VAT.
'Hugely complicated'
Mr Parker explained: "We have an excellent in-house legal department but it is one of the smallest of any local authority in Scotland.
"The stark figures of what we have spent on external legal services do not tell the story of how much that work has saved the council which is obviously not quantifiable.
"Much of the out-of-house legal work we have paid for has been issues-led and that includes major capital projects such as the railway, the public private partnership deals to secure three new secondary schools and the Kelso supermarket."
He said they were "hugely complicated" legal matters which were beyond the small in-house team.
"In Kelso, for instance, we were up against parties who could afford to employ the best Queen's Counsel, so it was necessary to instruct a QC to protect the interests of this council and council tax payers in the Borders," he added.
The council's in-house lawyers were the only local authority legal team in Scotland to make it to the national finals of the Municipal Journal UK awards in London in June.