Chapelcross nuclear plant defuelling reaches halfway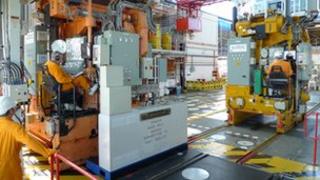 The defuelling of a south of Scotland nuclear plant has reached the halfway stage after more than two years.
The Chapelcross site, near Annan, was given permission to start removing more than 38,000 fuel rods in July 2008 and began the operation the following year.
More than 19,000 have now been taken off the site and moved to Sellafield in Cumbria for reprocessing.
Defuelling should be complete by 2013 but is just one part of the £800m decommissioning process of the plant.
It is hoped the site can reach a "care and maintenance" state by about 2023.
The fuel elements are removed about 150 at a time in special flasks.
It is estimated it will take about 250 journeys in total between Chapelcross and Sellafield to complete the operation.
Tim Dunham, the plant manager in charge of the defuelling project, said: "Reaching the halfway stage is a significant milestone and great achievement for Chapelcross.
"We continue to make significant progress on the major task of defuelling the site and it is a testament to the skilled and dedicated workforce currently focused on the defuelling project."
The Chapelcross nuclear plant was built in 1959 and ceased generation in 2004.
In 2007 its landmark cooling towers were demolished and a year later formal permission was received to start the lengthy process of defuelling its four reactors.