Lockerbie girl 'badly bitten' in dog attack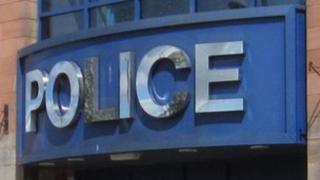 Police have appealed for help in tracing a dog and its owner after a girl was attacked in a Lockerbie park.
Amy Lamont, 11, was "badly bitten" in the incident in McJerrow Park at about 13:40 on Sunday.
She was playing when she was attacked by a brown and white dog which she described as being a Staffordshire bull terrier type.
Her mother, Susan, said her daughter's legs were left in a "terrible mess" as a result of the attack.
"She is keeping her chin up," she told the BBC.
"She saw the dog coming into McJerrow Park and she said the dog looked very angry," Ms Lamont said.
She said her daughter and her friends had jumped up onto a bench "because they were scared".
However, when they got back down, thinking the dog had gone away, the young girl was attacked from behind.
She was repeatedly bitten on both legs before a woman approached and took the dog away.
The girl was later collected from the park and taken to Dumfries Infirmary for treatment.
Her mother said: "I want the owner and the dog found because the next person that it attacks could be a young baby and it could be fatal."
The woman who took the dog away after the attack is described as being in her mid to late 20s, about 5ft 5in tall and was wearing a white fleece.
Anyone who has information about the dog or its owner has been urged to contact Dumfries and Galloway Constabulary.