Gretna Green weddings surge on 11/11/11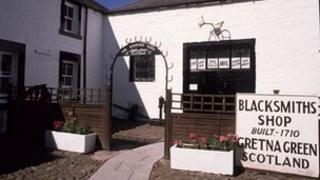 More than 50 couples selected the memorable date of 11/11/11 to tie the knot at a well-known wedding destination in southern Scotland.
They travelled from as far afield as New Zealand, Canada and Germany to Gretna and nearby Gretna Green.
A total of 51 weddings and two civil partnerships were scheduled for the Dumfries and Galloway villages.
Senior registrar Jane Chandler said memorable dates always proved popular for marriages in the area.
"We joke in here that you have got to make it easy for the guys to remember the date - but everyone's got their own reasons," she said.
"Today's date is such a unique date with all the ones in it that it has been booked up way ahead of time."
The highest number of weddings to be held on one day in the town is 78, when couples rushed to get married on 7 July 2007, snapping up the 7/7/7 date.
Gretna Green became a destination for young lovers after the Marriage Act was passed in 1754 in England, which outlawed marriages without parental consent if either party was under 21.
A tradition developed of couples travelling over the border to Scotland, which had more lenient laws.