Heathhall pensioner conned out of £40,000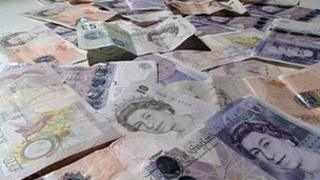 An alert has been issued after a man claiming to be from the police conned a pensioner out of more than £40,000.
The 85-year-old woman, from Heathhall near Dumfries, was told someone had tried to take money from her account.
She was then asked to transfer funds to another account, which she did, before realising it was a con.
Det Sgt Billy Thomson described it as a "despicable scam" and urged people never to give out personal or bank details over the phone.
The incident started with a phone call on 31 October by the man purporting to be from the police.
He convinced the woman to make transactions which amounted to more than £40,000.
'Stark reminder'
It was only later discovered to be a scam.
Det Sgt Thomson said: "This is a particularly despicable scam as it uses the trust that local people have in their local police to give credibility to their scam.
"Similar types of scams have come to light across the central belt in Scotland however this is the first time we have had a report of one like this in Dumfries and Galloway.
"This is yet another stark reminder to people that no matter who someone claims to be on the telephone, never ever give out any personal details or banking details."
Police are keen to hear from anyone who may have been approached in a similar manner and have asked them to get in touch if they can help.