Inverness killer in Dumfries jail loses vote bid appeal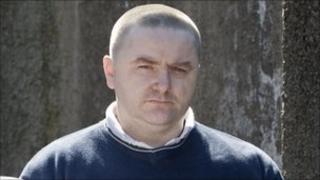 A convicted murderer has lost a legal challenge to win the right to vote.
George McGeoch, from Glasgow, is serving a life sentence in Dumfries prison for the murder of Eric Innes in Inverness in 1998.
In April, a judge in the Court of Session rejected the 39-year-old's bid to challenge the UK government's opposition to votes for convicts.
McGeoch took his case to three appeal judges who have agreed Lord Tyre was correct to rule against the murderer.
The appeal judges - Lords Reed, Hardie and Bracadale - had to decide whether Lord Tyre was correct in his conclusion that European Union law did not give McGeoch the right to vote in UK municipal elections.
Lord Reed said: "In the present case, since the petitioner is a UK national residing in the UK, and this application is concerned only with the right to vote in elections to bodies in the UK, the case is concerned with an internal situation which has no link with EU law."
McGeoch killed Mr Innes by slashing his throat.
He received a minimum term of 13 years but due to subsequent convictions will not be considered for parole until 2015.
In February 2008 he left two Reliance staff locked in their own vehicle after staging a break-out during a hospital visit in Perth.
He was jailed in 2009 for an extra seven-and-a-half years for the violent attack during which he used a makeshift knife.
McGeoch was also handed an eight-year prison term in 2002 for holding two nurses hostage in his prison cell.