Dunragit buzzard attack heron rescued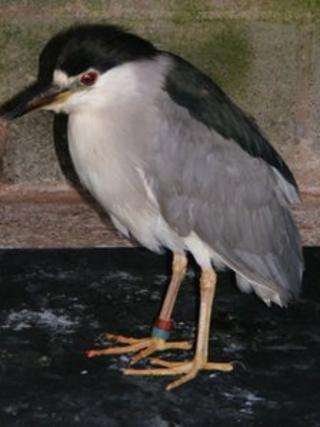 Animal welfare officers have rescued a black-crowned night heron found under attack by buzzards near Stranraer.
The bird, which had escaped from a wildlife park, was spotted in Dunragit at the weekend.
A member of the public contacted the Scottish SPCA after seeing the red-eye heron come under attack.
Insp Arianne Harkness rescued the bird and it was examined by vets before being returned to the Galloway Wildlife Conservation Park.
She said: "Once the bird was safe I set about trying to establish where it had come from because it's not native to the UK and was easy to handle which suggested it was used to being around people.
"After making some enquiries I was contacted by Edinburgh Zoo who explained that the bird used to belong to them, before being rehomed to Galloway Wildlife Conservation Park in Kirkcudbright some years ago.
"I contacted the park's owner, John Denerley, who confirmed the bird was missing after it flew away during bad weather."
Insp Harkness said she was glad to get the heron back to its rightful owner and was sure it would be "much happier back in its aviary and safely out of the reach of any buzzards".
Black-crowned night herons are nocturnal feeders with excellent vision.
They are native to the Americas, Central and Eastern Europe, parts of Africa and Southern Asia.
Their diet mainly consists of fish although they also enjoy leaches, earthworms and frogs.
They usually live in small colonies.