Portpatrick lifeboat funded by widow's £2.6m legacy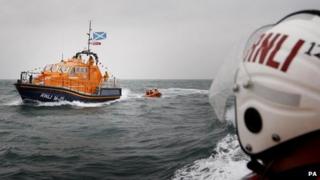 A state-of-the-art lifeboat funded by a £2.6m bequest from the widow of a Glasgow GP is being launched in south west Scotland.
The Portpatrick station's Tamar class vessel is the most technologically-advanced type in the RNLI fleet.
Catherine Barr, who died in 2008, left the money to fund a new lifeboat named in the memory of her late husband, Dr John Buchanan Barr MBE.
The RNLI said it was "extremely grateful" for the generous gift.
Dr Barr worked as a GP in Glasgow before World War II, during which he served with distinction with the Royal Army Medical Corps in North Africa, Sicily and Italy.
After demobilising, he returned to general practice in Glasgow.
However, he and his wife often spent their holidays in Portpatrick and the lifeboat bequest was because of their fondness for the village.
The new boat has been undergoing sea trials and is now set to arrive in the Dumfries and Galloway village.
The RNLI's national fundraising manager Isla Dewar said they were were extremely grateful for the Barrs' generosity.
The charity's boats, crews, equipment and training are funded wholly by public fundraising.