Hawick outbuilding demolition plea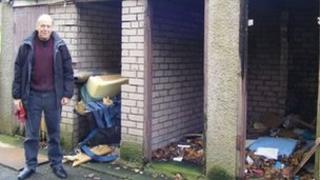 Community councillors on a Borders housing estate have called for semi-derelict outbuildings to be demolished.
The buildings, to the rear of shops and flats in Kenilworth Avenue on Hawick's Burnfoot estate, are in poor condition.
It has prompted concerns that young people could get hurt if they enter the properties. There are also fears that rubbish left lying could attract rats.
The vice-chairman of the local community council said demolition was the only realistic option.
Jamie Batten said they had been trying to sort the situation out for some time.
However, there is some dispute over who is responsible for the structures.
It is known they were erected by the former Hawick Town Council many years ago and it is believed they were originally used by tenants of the flats above the local shops.
Ownership of the homes has now been transferred to Scottish Borders Housing Association while the shops have largely been bought by their operators.
Mr Batten has called for Scottish Borders Council to take enforcement action.
He said he feared that with ownership still a matter of dispute the issue could drag on leaving a "dangerous eyesore" in the area.