Sainsbury's Kelso store job application radius extended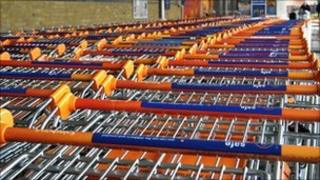 Borders MP Michael Moore has welcomed action by Sainsbury's to extend the radius for job applications at a new store in the region.
It was initially restricted to people living within five miles of the supermarket in Kelso.
The company uses the condition to try to ensure local people benefit from new jobs being offered in its stores.
After Mr Moore's intervention, applicants for the 16 posts currently available can live within 30 miles.
He said it was important for the restrictions to take into account the concentration of population near a store.
Mr Moore said: "When I was contacted about this issue, I couldn't believe that applications for Sainsbury's new Kelso store were being restricted to people who live within just five miles of the shop.
"I got in touch with Sainsbury's and there was a lot of confusion as to why the online application process was so restrictive.
"Sainsbury's management then discovered there had been an error and the radius has since been changed to 30 miles."
He said he was pleased it would now allow "many more people in the surrounding area" to apply.
'Very flexible'
Mr Moore encouraged people who had applied previously but had been rejected to try again.
A Sainsbury's spokesperson said: "We try to ensure that our stores reflect the communities that they serve so whenever possible we try to give jobs to people who live locally.
"Our stores do have some guidelines to help them recruit within a certain radius of where they are located.
"But these are very flexible and vary from store to store depending on the role concerned, the needs of the store and the geography of the local area."