Lothian and Borders biker safety website wins award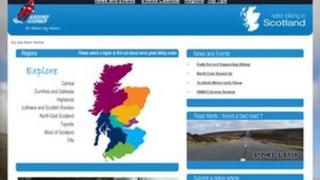 A Lothian and Borders Police motorbike campaign has been recognised for its contribution to improving road safety.
Around the Corner - a website-based initiative - picked up the Prince Michael International Road Safety Motorcycle Industry Award.
It gives advice from police motorcyclists to fellow bikers with riding tips and information on road conditions, weather and route maps.
Police said the award recognised "significant work" to improve safety.
Around the Corner started as an initiative to reduce the number of motorcyclists killed and seriously injured in the Scottish Borders.
With the backing of the Association of Chief Police Officers in Scotland (ACPOS), it was developed into a format which could be supported and adopted by all Scottish forces.
Lothian and Borders Police road safety co-ordinator Sandy Allan said: "Around the Corner was devised to tackle what is a significant road safety issue.
"While the number of people being killed and seriously injured on our road network is declining, this is not the case for motorcyclists.
"The number of motorcyclists coming to harm continues to be above an acceptable level."
He said "more traditional" ways of dealing with the problem had failed so it was decided to have a change of approach.
"The skills of police motorcyclists are highly regarded by the biker community and our motorcyclists started visiting recognised biker 'stops' across the area to share their skills, pass on local knowledge and encourage safe riding," he said.
"This award recognises the significant work undertaken and ongoing by Lothian and Borders Police to extend this unique initiative across the country to the benefit of our motorcycling fraternity."
Sgt Kenny Brown, of Lothian and Borders Police motorcycle section, said research had highlighted the usefulness of a website.
He said it was regularly updated with a huge variety of useful information.
"The website gives bikers the best possible start to any planned run - information direct from a local professional and biking enthusiast," he said.
The site was created and is kept up dated by the force's corporate communication department.
The award was presented to Lothian and Borders Police by Lord Robertson, chairman of the Commission for Road Safety.