Berwickshire High School mediation costs criticised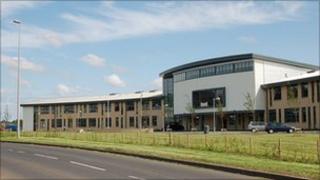 A council has been criticised for the cost of mediation consultants hired after a rector's comments about female pupils' "provocative" clothing.
Arbitrators were called in when a row blew up following an assembly by Robert Kelly at Berwickshire High School.
Borders Party councillor Nicholas Watson said paying more than £6,500 to consultants could not be justified.
Scottish Border Council said they had received the "going rate" and had been "working constructively" on the issue.
An investigation was launched last year after female pupils at the secondary school in Duns were warned to stop dressing "provocatively".
Mr Kelly said girls were encouraging boys to have "inappropriate thoughts" by wearing short skirts to school.
It prompted some parents to call for his resignation.
Subsequently staff at the 800-pupil school sent a letter to SBC's director of education Glenn Rodger saying they would be boycotting future parent council meetings because of the actions of certain individuals who "chose to attract negative publicity to the school on the basis of misinformation".
SBC then called in Edinburgh-based Core Solutions to try to resolve the dispute.
However, Mr Watson called on the firm to be "shown the door without delay".
He said: "How can paying over £6,500 to Core Solutions to mediate between Berwickshire High School's parent council and the school itself be justified.
"Is it not true that recent progress made is not attributable to Core Solutions but to members of the council's own education staff?"
The council's education executive member George Turnbull defended the move to hire the mediation consultants due to a "breakdown in relationships between the school and the parent council".
"Mediation was seen as a means of resolving these issues through the involvement of an independent body," he said.
"This decision was taken in discussions with school managers and the parent council.
"Core Solutions are a national organisation who are very experienced in dealing with complex mediation situations."
A council spokesman added that the company had been "working constructively together with parents and school staff to resolve a breakdown in communications".
He said there had been "significant progress" in resolving the situation, but that an "extended timescale" had been required.
No-one from the current parent council was available for comment.
Mr Kelly declined to answer whether the two sides had now resolved their differences and said: "It is being dealt with at the highest level so I don't feel that I can comment."