MSP Elaine Murray raises alcohol price 'booze bus' fear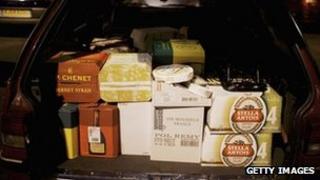 An MSP in southern Scotland has warned of "booze buses" heading to England if plans for a minimum price for a unit of alcohol north of the border go ahead.
Labour's Elaine Murray, who represents Dumfriesshire, said it could "increase the incentive" for people in her area to shop in Carlisle.
She said she would prefer to see any minimum price moves made across the UK.
The Scottish government has said the plan is an important element in the nation's "battle with alcohol misuse".
A first attempt by the SNP to push through a similar price proposal failed during the last parliament.
However, it unveiled fresh plans for the scheme this week but has yet to fix a proposed unit price.
If successful, the proposal could become law before next summer.
Health Secretary Nicola Sturgeon said it was the "most pressing" health challenge for the nation.
Ms Murray said she feared it could have an unwelcome impact on traders in the south of the country.
"If this measure is introduced in Scotland, it will increase the incentive for people in my constituency to shop in Carlisle," she said.
"I am concerned not just about the effect on those retailers who sell alcohol, but there may also be a 'knock-on' effect on other retailers, if customers go to Carlisle to shop in supermarkets there they may well use other shops while they are there.
"We know a lot of Dumfries and Galloway residents already go south to shop - minimum unit pricing will be yet another incentive."
She said she would prefer to see a move towards a minimum unit price achieved across the UK through the taxation system rather than in Scotland alone.
"I suspect we will see the rise of 'booze buses' and trips to England to shop for alcohol from Scotland similar to the 'booze cruises' to the continent from the UK," she warned.
During its previous attempt to introduce the plans, the Scottish government stressed it would need to work closely with the UK government to control pricing and promotions of alcohol brought into the country from south of the border.