Dumfries 'super school' could be built on hospital site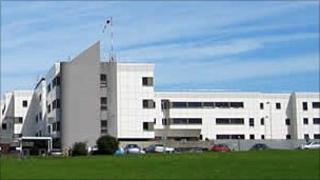 Council chiefs are investigating the possibility of building a "super school" for Dumfries on the current site of the town's hospital.
The project could only proceed if plans for a £200m replacement for Dumfries Infirmary see it moved elsewhere.
It is thought NHS managers will favour a greenfield site near the town's bypass, leaving the present site free.
It could then be used for a new senior school to house S4-S6 pupils from the four Dumfries secondaries.
Among the sites believed to be under consideration for the new hospital are one near Garroch Loaning and another near Lockerbie Road.
Either one could leave the land currently used by Dumfries Infirmary open for redevelopment.
An NHS Dumfries and Galloway spokesman would only say a number of options were being looked at.
Dumfries and Galloway Council's chief executive Gavin Stevenson admitted a location near the Crichton university and colleges would be an attractive proposition.
'Common sense'
"Obviously we are looking to maximise the public investment in the area," he said.
"As the NHS starts to develop its plans we'll know what residual footprint it's going to leave on the site.
"When we come to produce our business case next year for a new school in Dumfries we would obviously want to make the best use of the public investment that is already in the site."
He said the "synergies" of having the school close to the university and college sites made "common sense".
Mr Stevenson stressed nothing was decided, but said a full business case would be brought back to the council next summer.
"We are ruling nothing out at this stage," he said.