Rural town vulnerability to public sector cuts analysed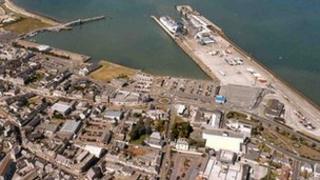 A research report has identified a "cluster" of rural Scots towns which are most vulnerable to the economic downturn linked to public sector cuts.
The study, which looked at 44 towns, found sites in the south and west of the country were particularly at risk.
They included the likes of Campbeltown, Girvan, Dunoon, Stranraer, Dumfries, Cumnock, Hawick and Eyemouth.
The study was carried out by the Rural Policy Centre at the Scottish Agricultural College.
It followed other research which has suggested there could be a dependence on public sector jobs in many small towns across the country.
As well as the south and west of the country, another area which the report describes as vulnerable is in and around Dundee.
It cites Brechin, Kirriemuir and Blairgowrie as potential towns of concern.
Further north the report concludes Dingwall, Tain and Buckie also "demonstrate high vulnerability".
The study did find some places which were less at risk of feeling the impact of the economic downturn.
Towns in central and north east Scotland like Callander, Crieff, Pitlochry, Banchory, Aviemore and Alford were said to be less vulnerable.
In the islands, Stornoway was rated most vulnerable with relatively low levels in Stromness, Kirkwall and Lerwick.
'Hurt most'
The report concluded the impact of public sector cuts on towns should be constantly monitored and policies tailored to suit the needs of different areas.
Its author Jane Atterton said the findings should be treated with some caution.
"We haven't got all towns in there from across Scotland, this is a selection of 44 so we do have to be a little bit careful about how we talk about different towns in the sense of where they sit in the index," she said.
"The reasons for the vulnerability do differ, but certainly it is an important thing for policy makers and local practitioners to be looking at."
The head of the Labour group on Dumfries and Galloway Council, where two of the more vulnerable towns are located, said the study showed the impact of UK government policy.
Ronnie Nicholson said: "Stranraer and Dumfries have a high proportion of people employed by the public sector, and so the cuts at the council and NHS are going to hurt here more than most."
Further work is still to be done on refining the results of the study.
They will be presented in a report due to be published in February next year.