Tracey Logan appointed Scottish Borders Council chief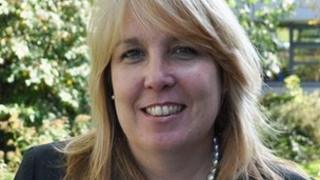 Scottish Borders Council has appointed its first ever female chief executive.
Tracey Logan, 45, was the council's director of resources before beating some 40 competing candidates for the job.
She replaces David Hume who took early retirement two months ago due to a "change in personal circumstances".
Ms Logan joined Scottish Borders Council in 2006 as head of human resources after several years of work in both the public and private sector.
She takes over the £120,000 a year post at the council with immediate effect.
She said she was "delighted" to take up the role.
"There is no doubt local authorities across the country are facing challenging times but having worked here for over five years, I already know we have dedicated and hardworking staff who will continue to take this council forward," she said.
"The Borders is a great place to live and work and I am looking forward to working with employees, our communities and other partners in the coming months and years to provide excellent services for the people of the Borders."
Council leader David Parker said he was pleased with Ms Logan's appointment.
"I have no doubt that she will rise to the challenge of chief executive and will provide the guidance that we need to take Scottish Borders Council forward into the future," he said.