Dumfries cat neglect woman's lifetime pet ban welcomed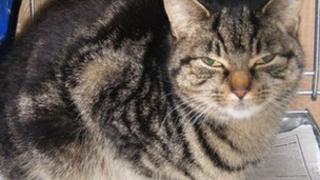 The Scottish SPCA has welcomed a lifetime ban on keeping pets for a woman who admitted neglecting two cats.
Kalila Denver, 21, of Church Street, Dumfries, left them for at least four days without food and water and with no means of leaving a house in Annan.
She was fined £320 and given the lifetime ban at Dumfries Sheriff Court.
The Scottish SPCA said Denver had demonstrated she was "completely unfit" to care for animals and expressed "delight" at the ban.
The offence took place at a property in Springbells Road, Annan, in September last year.
Denver admitted causing her two cats, Toffee and Princess, unnecessary suffering by failing to provide an adequate diet or means of escape from the house.
The cats were subsequently taken into care by the Scottish SPCA.
A solicitor for Denver said she was ashamed of her actions, but had been having health problems at the time and had moved to Dumfries to be with her partner.
However, Sheriff Peter Grant-Hutchison told her there was no excuse for her cruel behaviour towards her pets.
The Scottish SPCA said it had been alerted to the case when a neighbour heard the animals' cries.
Insp Janet Proudlock said: "The poor cats were forced to scavenge from bin bags which were piled up in a bedroom as they hadn't been left enough food.
"Luckily, we were alerted and were able to rescue the cats and transport them to Dunragit Kennels, where they were cared for before being found loving new homes."