R&D Construction workers win redundancy tribunal payout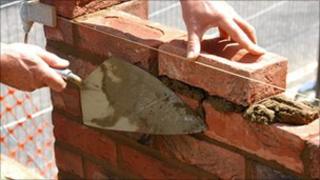 Workers who lost their jobs when a Dumfries-based building firm collapsed are in line for thousands of pounds following a tribunal victory.
About 200 staff were affected when R&D Construction went into administration earlier this year.
The Union of Construction Allied Trades and Technicians (UCATT) took the firm to an employment tribunal.
It found R&D had failed to comply with labour relations law, clearing the way for payments to workers.
Harry Frew of UCATT said the money, which would come from the Insolvency Service, was likely to run into a few thousand pounds for each of the workers involved.
He said the union was pleased the tribunal had found in its favour after no response was received from the company within the relevant time limit.
"It was a good decision and I think it was a fair decision," he said.
Mr Frew added that the money secured would be in addition to redundancy payments made earlier this year.
The company went into administration in April this year after concerns first emerged about a delay in paying staff wages.
More than 200 jobs were lost at the firm which was the main contractor in a multi-million pound housing renewal project in Dumfries and Stranraer.