Peebles missing man Steven Hope CCTV images released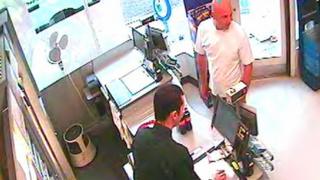 Police in the Scottish Borders have released CCTV images of a missing man who disappeared two months ago.
They show Steven Hope visiting the Co-op store at Old Town, Peebles, about 08:00 on Thursday 25 August - the last known sighting of the 43-year-old.
The shop is near his home address in the Greenside area of the town.
There have been repeated appeals for information since his disappearance. Anyone who has seen him has been asked to contact Lothian and Borders Police.
The CCTV image shows him wearing a white T-shirt, brown and green camouflage trousers and brown boots.
He is also known to wear a green or brown coloured wax fishing jacket, and it is believed possible that he wore the jacket on the day he was last seen.
Specialist search
In addition to renewing their appeal for information, police are carrying out a specialist search in Peebles to seek any trace of the missing man.
Insp Mike Wynne said: "The CCTV image shows Steven purchasing items in the Co-op store prior to his disappearance.
"This is the last known sighting of him, and we are interested in speaking to anyone who can help us establish his movements thereafter.
"Steven is a landscape architect, and is known to work across West Lothian and occasionally in the Scottish Borders."
He asked for anyone who might have employed him in recent months or may have seen or heard from him to get in touch.
Mr Hope is described as 5ft 10in tall, of stocky build, clean-shaven with green eyes and a Celtic tribal tattoo on his back between his shoulder blades.
He has an eight-inch skin graft on his right arm, and speaks with a Scottish accent.