Lockerbie firm offers horse-based business improvement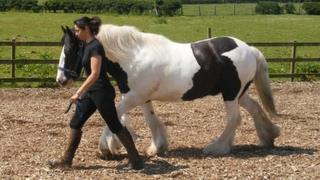 It does not sound like the most obvious solution to problems in the modern workplace - send for the horses.
Yet two south of Scotland businesswoman believe an equine approach can help tackle issues ranging from stress management to conflict resolution.
Their new company, Lead Rope, based near Lockerbie, hopes to prove stable skills can transfer to the boardroom.
But how exactly can the "unique challenge" being offered aim to improve business performance?
Mioto Dunnington and former accounts director Nicole Simpson have designed Equine Assisted Development (EAD) programmes which use horses in "non-ridden activities".
They say there is a lot to be gained and learned from interaction with the animals.
Ms Simpson explained: "In these tough economic times it's never been as important for businesses to invest in their biggest asset - the workforce - to help them remain competitive.
"Our programmes offer a unique challenge, providing staff with an opportunity to get a big, strong animal to do what they want it to.
"Horses are herd animals that react to verbal and non-verbal actions.
"Your emotions, and even a subtle movement, can change the outcome of an exercise which means no two sessions are ever the same - just like in life.
"You need creative thinking, problem solving and team work to get them to just take a step."
She said that accomplishing a task with a horse could give greater confidence and "embed techniques" which could be used in the workplace.
Ms Simpson added: "Mioto is integral to every session we run because she provides analysis of each individual who has taken part in a task.
"Her input gives clients a greater understanding of how they work and highlights areas that they need to focus on to help them develop their careers.
"Everything is analysed, right down to how a person holds a horse's lead rope to the type of horse they chose to work with, because it all gives Mioto an insight into a person's psyche. It's absolutely fascinating."
'Great alternative'
The enterprise has been assisted by Business Gateway, Dumfries and Galloway.
Business adviser Nicola Smith said: "Nicole and Mioto's business provides companies with a unique way to invest in their staff and provide them with career developing skills.
"We've worked closely with the ladies, providing them with advice and support which has helped them set up a business that seamlessly merges their professional skills with their passion for horses.
"No-one can deny that what they are offering is innovative and a great alternative to traditional team building exercises, and we will continue to work with them as their venture grows."