Engine loss leaves Stranraer-Belfast ferry drifting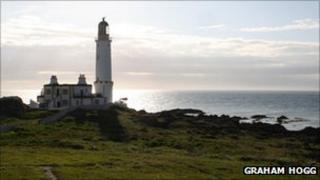 Stena's fast ferry from Stranraer to Belfast was left drifting off the Rhinns of Galloway after losing power in both its engines.
The Stena Navigator had 70 passengers and 47 crew on board. The operation to assist them was coordinated by Clyde coastguard.
Tugs were called and the ferry was eventually able to restart one engine.
It arrived in Belfast Lough at 04:30 on Saturday, where the tugs helped as it was tied safely to the ferry pier.
The crew of the Stena Navigator alerted the Clyde Maritime Rescue Coordination Centre (MRCC) at Greenock about 00:50 after they were left drifting four nautical miles (7.4km) west of Corsewall Point light, at the northern end of the The Rhinns.
Svitzer tugs Norton Cross and Willowgarth went to the ferry's assistance.
But the Stena Navigator was eventually able to complete its journey on half power.