Peebles anti-social driving cut by community campaign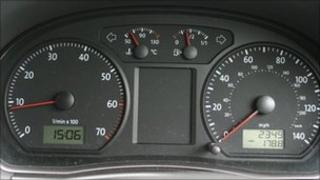 A community policing campaign has been credited with reducing the number of complaints about anti-social driving in a Scottish Borders town.
Lothian and Borders Police said problems at Kingsmeadows Road car park in Peebles had "fallen dramatically".
It follows the launch of the force's "community commitment" last year which resulted in the issue being raised.
Ch Supt Graham Sinclair said it showed the public and police could work together for a "successful conclusion".
The police campaign was launched in September last year to try to "improve engagement" between police and the community.
As a result, a number of residents in Peebles raised concerns about the driving of young motorists in the Kingsmeadows Road area.
Police said there had been several reports of "racing and dangerous driving".
Following talks with the town's community council, a working group was set up to try to identify those responsible and address their behaviour.
'Areas of concern'
A number of drivers were identified and were sent letters warning them of the potential consequences of their conduct behind the wheel.
Police said they would continue to work on the issue but the number of complaints had fallen significantly.
Ch Supt Sinclair said: "The driving behaviour of many of the young motorists within the Kingsmeadows car park was of great concern to the local residents, who wanted police to take action.
"Through detailed engagement, officers successfully identified a number of drivers involved and with the help of the joint working group, a significant improvement has been noted.
"Community commitment encourages the public to identify any areas of concern within their community and bring them to the attention of the police who will take the necessary steps to resolve the matter.
"I would actively encourage all of our communities to continually engage with police to bring a successful conclusion to any issues affecting their area."