Borders to Edinburgh rail route 'essential' to economy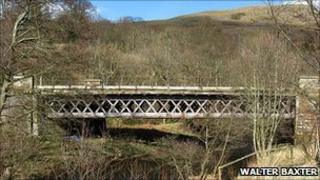 Detailed negotiations are taking place with Network Rail to try to ensure a rail link to the Borders is completed on time, MSPs have been told.
Infrastructure Secretary Alex Neil said the Scottish government was committed to finishing the project by late 2014.
He described the railway line as an "essential part of the jigsaw" for the economic future of the region.
He was speaking after it emerged last week that the tender process for the £295m scheme had been scrapped.
Network Rail will now be asked to deliver the project after two of three bidders for the work pulled out.
Mr Neil told members of Holyrood's Infrastructure and Capital Investment Committee that the SNP administration remained "very committed" to the scheme going ahead.
He said: "We maintain our intention to complete the Borders railway by the turn of 2014/15, because we regard the Borders railway as an essential part of the jigsaw of maintaining high levels of economic activity in the Borders region of Scotland."
Labour's Malcolm Chisholm pressed Mr Neil, asking him: "Are you confident about the delivery date of 2014/15?"
Mr Neil told him: "Our target date is to complete this by the end of 2014.
"There's detailed negotiation with Network Rail about how they reach the milestones and try to finalise in more detail the position of how we do that and achieve that target."
Lib Dem MSP Jim Hume said he wanted to see a "detailed timeline for a schedule of work" which would make the December 2014 target "a reality".
"The shambles made of the expensive tendering process so far is a sharp incentive for the government to keep to its word and finally get it right," he added.
'Way forward'
The rail link will re-establish passenger railway services from Edinburgh through Midlothian to Tweedbank for the first time since 1969.
The Scottish government has already said the project would create between 200 and 400 jobs during the construction phase.
It will now be funded using the regulatory asset (RA) method, with Network Rail borrowing the money and the government making payments to them once the line is up and running.
Mr Neil said: "Once we determined the pros and cons of that it became very clear to us that the sensible way forward in terms of funding of this particular project was to use the RA mechanism and, therefore, Network Rail will be responsible for the project.
"Essentially the money is borrowed by Network Rail and then, once the project is up and running, we pay a charge to Network Rail over a period of years."