Borders rail link tender process scrapped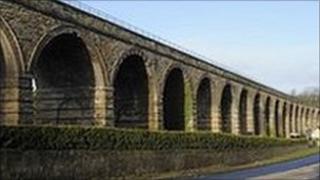 The Scottish government has scrapped its plan to get a private company to build the new Borders railway, because of a lack of interest.
Transport minister Keith Brown said the £295m project would now be taken forward with Network Rail.
The move comes after several consortia dropped out of the competition, for commercial reasons.
Ministers said the 35-mile (56km) line from Edinburgh to Tweedbank was still on course to open in December 2014.
But opposition parties said the project had "hit the buffers" and said ministers must come clean over contractual problems.
Agency Transport Scotland will now work in partnership with Network Rail, which will be responsible for sub-contracting work to experienced firms.
Mr Brown, said: "Despite early enthusiasm from bidders, it is disappointing that two consortia dropped out for their own commercial reasons.
"Following the withdrawal of IMCD from the procurement in the summer, we said we would consider our options to find the right way forward to deliver the project for the best value in the shortest possible time. Today's announcement concludes that process."
'Embarrassing' problems
The minister added: "Network Rail has confirmed it is pleased to be asked to take this project forward and I am confident it is able to deliver the project within budget and with significant ongoing savings to the public purse."
Tory transport spokesman Jackson Carlaw, said: "Yet another vital transport project has hit the buffers.
"Following the tram fiasco in Edinburgh, the SNP can ill-afford a further infrastructure disaster, but, by ending competition to build the Borders Railway, I fear we are on course for exactly that."
The Lib Dems' Jim Hume added: "With problem upon problem with external contractors, the government has had to perform an embarrassing U-turn to get this project back on track.
"There have obviously been problems with the contractual process and the Scottish government should have come clean on this earlier on in the process."
Scottish Labour leader Iain Gray said: "Labour has said all along that there non-profit distribution model would not attract private investment to projects like this."
Construction of the line, which will restore rail services to Midlothian and the Borders for the first time in 40 years, is expected to generate up to 400 jobs.
Paul Plummer, group strategy director with Network Rail, which previously delivered the Airdrie-Bathgate rail link, said: "We welcome this opportunity to work with the Scottish government towards the delivery of another important piece of new railway infrastructure in Scotland."