Scots prosecutors ask Libya for Lockerbie evidence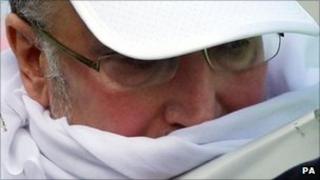 The Crown Office has formally contacted Libya's new government to ask for help with the Lockerbie inquiry.
Scottish prosecutors hope co-operation with Libya may be forthcoming following the regime change in Tripoli.
The Crown Office has asked the National Transitional Council (NTC) to provide evidence needed to convict those who acted along with Abdelbaset al-Megrahi.
The NTC justice minister said the Megrahi case was closed. It was unclear if this ruled out further inquiries.
The Foreign Office said it believed NTC assurances of co-operation with requests for information still stood.
Megrahi was released from a Scottish prison two years ago because he has terminal prostate cancer.
He is the only person to be convicted of the Lockerbie bombing which killed 270 people.
A Crown Office spokesman said: "The trial court accepted that Mr Megrahi acted in furtherance of the Libyan intelligence services in an act of state sponsored terrorism and did not act alone.
"Lockerbie remains an open inquiry concerning the involvement of others with Mr Megrahi in the murder of 270 people.
"The Crown will continue to pursue lines of inquiry that become available and following recent events in Libya has asked the National Transitional Council, through the Foreign and Commonwealth Office, for assistance with the investigation."
He added: "In particular we have asked the NTC to make available to the Crown any documentary evidence and witnesses, which could assist in the ongoing inquiries.
"As the investigation remains live and in order to preserve the integrity of that investigation, it would not be appropriate to offer further comment."
Evidence requests
Abdelbaset al-Megrahi was jailed for the Lockerbie bombing in 2001 after being convicted by a Scottish Court sitting in the Netherlands but his co-accused, Al-Amin Khalifa Fhimah, was found not guilty.
Megrahi returned to Libya more than two years ago after being released on compassionate grounds.
Recent regime change in the country has given rise to regular calls for any fresh evidence on the case to be released.
NTC interim justice minister Mohammed al-Alagi told a news conference: "What we know and what the rest of the world knows is that Mr Abdelbaset al-Megrahi was tried and convicted for the Lockerbie case."
He added: "For me, as a minister of justice, I consider this case closed. It is finished, actually. We cannot put the same person on trial for the same charge twice."
The NTC has previously said the council would provide any assistance to Lockerbie investigators that was requested.
The Foreign Office said the UK government did not regard the NTC's position as having changed.
A spokesman added: "NTC chairman Abdul Jalil has already assured the prime minister that the new Libyan authorities will co-operate with the UK in this and other ongoing investigations.
"Having spoken with the NTC this evening we understand that this remains the case."