Melrose station restoration on display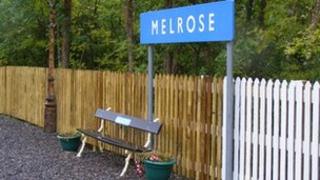 The public has been given a chance to view a restored former station on the old Waverley line route through the Scottish Borders to Edinburgh.
The Melrose site was closed, along with the other stations on the line, in January 1969.
The station building was retained and the Waverley Railway Company has recently undertaken restoration work at the platform.
The public had the chance to view the works throughout Saturday and Sunday.
The next phase of works, planned for the spring, will see a length of track laid in front of the platform.
Future developments could see a carriage or other rolling stock located on the track.
Geoffrey Evison of the WRC said the open days gave rail enthusiasts a chance to see one of the few remaining stations on the Waverley route which has remained more or less intact.
Even when rail services do return to the central Borders, Melrose will not be served.
Current plans, due to be completed in 2014, would see the restored line terminating at Tweedbank, just a mile or so from Melrose Station.
Tweedbank did not even exist in 1969 when the Waverley route was closed but is now a thriving community with a school, shops and a variety of industries, as well as being the site of the Scottish Public Pensions Agency.