Dumfries and Galloway Constabulary's closing chapter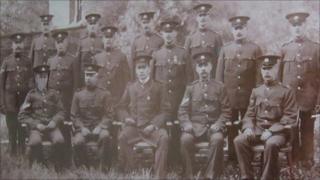 When Scotland's police forces were looking for one emblem to represent them all, they turned to Dumfries.
It was more than 80 years ago that the badge carrying the Semper Vigilo - Always Alert - motto was designed in the south west town.
Local chief constable William Black approached Dumfries Academy art master Robert Dickie Cairns to produce a suitable logo.
It is one that has lasted to this day and may now well outlast Dumfries and Galloway Constabulary.
Scottish government plans would see the nation's eight forces merged into one - bringing to an end the life of what is, in personnel terms, the smallest mainland force in the UK.
For the curator of the local police museum, Joe Craig, it would be a sorry day but not one without historical precedent.
The Dumfries and Galloway force itself was created by a similar process in 1948 with the merger of units for Dumfries County, Kirkcudbrightshire and Wigtownshire.
"Almost since the inception of police forces in Scotland, they have encouraged amalgamations," said Mr Craig.
During his career with Strathclyde Police he saw the number of separate units decline from 34 to just eight.
Now, in his retirement, it looks set to drop to just one.
Mr Craig moved to Dumfries and Galloway after he left policing, but he quickly got drawn into creating a small museum for the local force in the basement of the Loreburn Street station in Dumfries.
It tells a story which he believes the region should be proud of.
"Coming from outside the area the first thing I noticed was the close relationship that Dumfries and Galloway police have with the local community," he said.
"In some bigger areas a policeman is really just a number and somewhat detached from the community.
"Police here are very much part of the community.
"As an outsider, the people here in Dumfries and Galloway don't realise how lucky they are."
The history recounted on the museum walls is a fascinating one dating back to before the creation of the regionwide force.
But even the story since that last amalgamation is littered with intriguing cases.
Few caused more shock in a small, rural town than the killing of a local policeman in 1951.
Sgt William Gibson was on patrol in Dumfries in the early hours of 22 May that year when reports were received of a man with a gun "threatening to shoot everyone".
Along with Constables Andrew Hope and Robert Campbell he took a car towards Bank Street where they were confronted by Robert Smith.
He opened fire on their vehicle, killing Sgt Gibson and severely injuring PC Hope.
The uninjured PC Campbell tackled the gunman and was able to arrest him.
Sgt Gibson was posthumously awarded the King's Commendation for Brave Conduct, PC Campbell the George Medal and PC Hope also received a King's Commendation.
Such incidents have been rare but the region has also, in more recent times, been the site of one the biggest murder inquiries in British history.
When Pan Am Flight 103 was blown up over Lockerbie in December 1988 some 270 people lost their lives.
"I was working with Strathclyde Police during the Lockerbie disaster," recalled Mr Craig.
"I came down here - I was down here for a few weeks - the first job was just trying to deal with the bodies that came in.
"No amount of training could really prepare you for a disaster the likes of that.
"They had to seek additional help from other Scottish forces and some English forces."
A lengthy criminal investigation eventually resulted in the prosecution and conviction of Libyan Abdelbaset Ali al-Megrahi.
'Very disappointing'
Nowadays the force numbers about 500 officers, making it the smallest in mainland Britain but with a large geographical area to patrol.
Mr Craig said he hoped that the bonds built up over more than 60 years under its current name would not be broken by any changes to the national structure.
"It is very disappointing to see that such a thing is going to disappear," he said.
"However, as a police historian, I am aware that the history of policing in the whole of the UK and in Scotland is one of amalgamation.
"It is unfortunate to see a force of the calibre of Dumfries and Galloway disappear.
"It is only to be hoped that the links they have built up with the local community - which I think are very strong - are maintained in the future, whatever happens."
If nothing else, their story will be kept alive by the badge worn by officers across the country.