Dumfries leisure centre DG One 'secrecy' condemned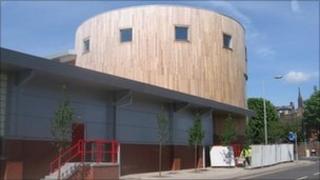 A call has been made for an end to council "secrecy" about the condition of a £17m leisure centre in Dumfries.
Specialists have been called in to conduct in-depth surveys into ongoing problems with the DG One development.
A four-day swimming contest has been switched from the site, prompting Labour councillors to call for more clarity on the state of the building.
Council leader, Conservative Ivor Hyslop, denied there had been any attempt to keep the public in the dark.
Dumfries and Galloway Council confirmed last month that detailed investigations were to be carried out into repeated faults with the complex, which opened three years ago.
It said the surveys could shut "parts or all of the facility" over the coming months.
It has since emerged that the Scottish national short-course championships, planned for Dumfries in December, have been switched to Inverness.
Labour councillor John Martin said this went against promises that councillors would be "properly briefed" on problems at the centre.
"There are rumours flying around that the pool could be closed for months, maybe even longer, yet councillors, and more importantly the public, are being left in the dark," he said.
"No-one expects the council to go into detail over any legal issues to do with the condition of the building," he said.
"But it is little short of a disgrace that local councillors are being denied basic information when decisions like this are being made, and if we have to put a formal motion before the full council to expose this secrecy then that is what we will do."
Mr Hyslop said he accepted councillors could have been given information more quickly about the loss of the swimming event.
Alternative venue
However, he denied there was any attempt to conceal information from the public or elected members.
"In the future we will be going through some more tests to see what problems are involved," he said.
He said until those checks were concluded they could not be 100% sure what the issues were and how they could be addressed.
Mr Hyslop added that by contacting the swimming championships, it had allowed them to book another venue.
"Of course it is disappointing we don't have it down here," he said.
"But we have to look at things and say would it be better for them to turn up on the day and we say sorry we are closed - if that is what needs to happen."