Dumfries hospital ward change row discussions held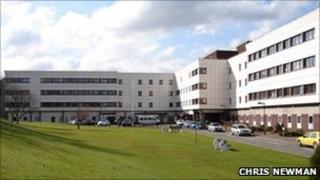 NHS bosses are holding talks with staff in a bid to defuse a row over redeployment plans for nurses affected by ward changes at Dumfries Infirmary.
The health authority, which is closing more than 20 beds as part of a service redesign, is looking to match nursing staff to alternative jobs.
Claims have surfaced some are being asked to consider non-trained posts or to apply for posts that do not exist.
Now talks are to be held to try to clear the air over the issue.
Dougie Lockhart, who sits as employee director on NHS Dumfries and Galloway, said the situation had created an air of mistrust which needed to be addressed as a matter of urgency.
"Staff are saying to me in my own department that they feel there has been misinformation given out about job vacancies and the process of being allowed to express interest in job vacancies," he said.
He said he wanted to ensure a "fair deal" for staff but added that he did not feel they had been given the "proper information" about the changes.
He said if the problems with the process were not addressed it could result in staff grievances in future.
The concerns prompted NHS chief executive John Burns to order talks with staff.
He dismissed any suggestion that trained nurses would be asked to fill non-trained posts.
However, he accepted the redeployment process was a concern for the staff involved and one which the health board must get right.
"These are complex changes that we are making and any complex change in the organisation will, of course, concern staff," he said.
He said the health board wanted to "work with staff" in order to ensure it was dealing with their concerns appropriately.