Napoleon's hair found at Sir Walter Scott's former home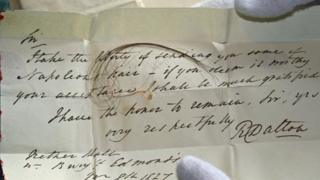 A lock of Napoleon's hair has been unearthed during a visit by a TV antiques show to the former home of Sir Walter Scott in the Borders.
The historic item was contained in a small handwritten note at Abbotsford House near Melrose.
The hair was found by the Antiques Road Trip team during studies of a blotter book which had belonged to Napoleon.
Jason Dyer of the Abbotsford Trust said it showed the "importance of preserving this wonderful home and its contents".
The hair was rediscovered as one of the show's antiques experts, Anita Manning, and Mr Dyer examined the blotter book which had been on show in the library.
It contained a small handwritten note dated 8 November 1827, written to Sir Walter Scott from a Mr Dalton.
In the note, Mr Dalton explained that the lock of hair was given to him by Lt Col Elphinstone who served under Wellington, and that he believed it would be of great interest to Scott who was famed for his passion for collecting.
The blotter, which is in an extremely fragile condition, the note and hair have now been removed from Abbotsford and are being examined by a team of conservation experts.
They will go on show again to the public once that work has been completed.
The lock of Napoleon's hair is just one of a host of "fascinating objects" in Sir Walter Scott's Abbotsford collections.
Other items include a silver urn gifted to Scott by Lord Bryon, a clock that is reputed to have belonged to Marie Antoinette, Rob Roy's broadsword, dirk, sporran and gun, as well as numerous artefacts collected from the field of the battle of Waterloo.
A multi-million pound regeneration is now under way at Abbotsford including the first extensive cataloguing of all of the historic objects in the house, as well as conservation work on many of the pieces.
Abbotsford Trust chief executive Mr Dyer said: "We're obviously delighted by this latest rediscovery which we believe demonstrates further the importance of preserving this wonderful home and its contents for the future.
"For the last four years, we have been developing plans and raising funds to enable us to preserve Abbotsford and create a world-class attraction where visitors can learn about Scott, his legacy and his wonderful collections.
"We believe the restoration process involved will unearth even more treasures and are greatly looking forward to seeing the progress of this exciting project."
'Hidden gems'
Wendy Rattray, executive producer at STV Productions, which produces the TV series, said they had been delighted with the "truly breathtaking find".
"Our experts are always on the lookout for hidden treasures as they drive across the UK but never did we imagine we'd find something of such historical importance," she said.
"It just goes to show that there are still hidden gems waiting to be discovered and our experts are still managing to thrill and excite the audience with their finds."
The episode of Antiques Road Trip featuring Abbotsford is due to be screened on BBC Two on 14 September.