Scottish Borders students given road safety message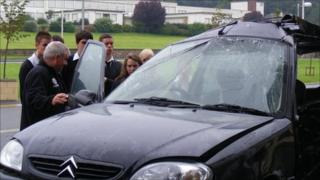 Students at secondary schools across the Borders are being given a special road safety message.
The Driving into the Future scheme aims to ensure young would-be drivers are made aware of their responsibilities and the dangers of the roads.
Young drivers form a large percentage of the number of people involved in fatal or serious crashes in the region.
Insp Colin Shillito said the initiative could raise awareness of the problems posed by the region's roads.
He said rural routes could pose a real test to all drivers, not only those who had only recently passed their test.
The workshop-based event covers everything from driving skills to car maintenance.
'Know consequences'
It also shows, graphically, what can happen if things go wrong, using a car which was involved in a real-life fatal accident.
Michael Jaffray, group commander with Lothian and Borders Fire and Rescue service, said the wrecked vehicle gave a realistic picture of the serious consequences which could result from irresponsible driving.
Berwickshire High School was the venue for the event on Friday, but it will be staged at secondaries across the Borders throughout this week.
Sixth year student Shannon Devanney said she had found the day worthwhile - and frightening.
"When I saw that car I was scared just thinking what could happen if I was in an accident," she said.
Sean Sutherland, who is learning to drive at the moment, added: "It's good to know the consequences of your driving.
"Some people do think they know everything about driving after they've passed their test.
"But it's clear they don't."