Steve Hislop remembered in Denholm charity ride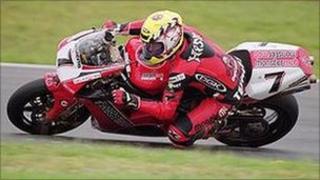 Hundreds of bikers have converged on Denholm in the Scottish Borders for the annual Steve Hislop Memorial Run.
The Hizzy Run draws people from a wide area to remember the superbike champion who died in a helicopter crash near Hawick in 2003.
Organiser Wendy Oliver said a few changes had been made to the route for this year's proceedings.
The 165-mile run starts and finishes in Denholm and includes a circuit of Hawick town centre.
In previous years it has started in Dundee and worked its way down to the Scottish Borders.
Ms Oliver said it always attracted a strong participation.
"Last year, surprisingly, the weather was atrocious and we still had over 200 bikes," she said.
"I think we are due a good sunny day this year and I would like to think we will have in excess of 200 or 300.
"You get everything from young children sitting on the back of bikes to vintage bikes - even if they just join in and do a small part of the run."