Mark Beaumont completes Arctic pole row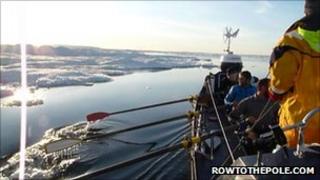 A rowing expedition has reached the 1996 location of the magnetic North Pole in a bid to highlight the effect of climate change in the region.
Dumfries-born adventurer Jock Wishart led the crew on its 500-mile journey across the Arctic.
Also taking part in the polar challenge was round-the-world cyclist Mark Beaumont.
Packed ice caused the team problems in the final part of the row making the last few miles "a struggle".
The group set off on its journey from Resolute Bay in the Canadian Arctic on 29 July.
Along with Mr Wishart and Mr Beaumont, from Perthshire, the rest of the crew was made up of Cornwall-born Billy Gammon, Rob Sleep and David Mans from Hampshire, and Londoner Mark Delstanche.
They had hoped to finish their challenge sooner but their boat encountered problems with ice in the closing stages.
However, they eventually reached their goal after more than three weeks of gruelling effort.
Mr Wishart said: "I think this is one of my greatest achievements.
"It was a dream four years ago but now it's reality."
He said up until Thursday night they had been unsure whether they could reach their destination but they were "exhilarated and relieved" to have done so.
"It is an enormous achievement, and a privilege for our team to have been part of what is one of the world's last great firsts," he added.
Crew member Mr Delstanche had another reason to celebrate as he became a father to a baby son a few days ago.
Prior to the expedition Mr Wishart had explained the reasons behind undertaking the challenge.
"It is only possible because of the melting ice in the polar regions," he said.
"Whether this is cyclical, whether this is because we are pumping too much CO2 into the atmosphere, it is happening nonetheless.
"We want to demonstrate to people there's a problem up there."