Wildlife poisoning cases increase in Scotland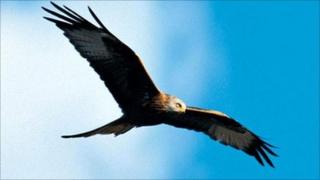 Birds of prey, wild mammals, livestock and pets were all victims of accidental or deliberate poisoning across Scotland last year, a report has found.
The figures were unveiled by the Wildlife Incident Investigation Scheme.
They show an increase in the number of cases investigated in 2010, with some involving incorrect storage and usage of approved pesticides.
Environment Minister Stewart Stevenson said it highlighted the "devastating impact" that such actions could cause.
Among the incidents highlighted in the report by the Scottish government's Science and Advice for Scottish Agriculture (Sasa) scientists were:
a piglet which escaped from its enclosure and died after eating rodent baits left by the previous occupant of the farm
22 abuse incidents involving birds of prey, including 13 buzzards, seven red kites and four golden eagles
illness of a working dog following exposure to sheep-dip chemicals, and
an unlabelled glass jar found on a farm containing potentially-lethal cyanide.
The illegal use of carbofuran accounted for more than half of all 32 abuse incidents, with nine different pesticides detected in the remaining incidents.
The report said that 69% of all abuse cases involved the poisoning of bird of prey.
Mr Stevenson said: "This report highlights the devastating impact that the irresponsible abuse of pesticides can have on our wildlife.
"Scotland's natural environment is one of our most valuable assets and it is essential that we protect it and ensure that pesticide use is regulated appropriately.
"Sasa plays a vital role in monitoring these incidents and helping make our countryside a safer place for us all, whilst providing crucial evidence in the fight against wildlife crime."
He said the number of birds of prey being deliberately poisoned remained a concern.
Duncan Orr-Ewing, head of species and land management at RSPB Scotland, said: "The 2010 report highlights the high proportion of pesticide abuse cases still involving our iconic bird of prey species.
"The impact of illegal poisoning on these and other bird of prey species remains a serious concern, undermining the recovery of their populations."
He welcomed increased reporting by the public of potential illegal poisoning cases and the efforts being made by Scottish landowners to tackle the problem.
Supt Alan Smailes, who chairs the Raptor Persecution Priority Delivery Group, said the figures showed efforts to eradicate the issue were having an effect.
"An interesting aspect of the report is that the data confirms existing suspicions that poisonings are becoming more geographically polarised," he said.
"As for those areas where poisoning is continuing to occur, it is becoming ever more apparent who and where you are and we will not hesitate to use all means at our disposal to stop you."
'Sustained approach'
Luke Borwick, chairman of Scottish Land and Estates, which represents 2,500 landowners, said it was working hard to reduce such incidents.
He added: "This requires a sustained approach over time and there is evidence these joint efforts are beginning to pay off.
"Early indications for the first half of 2011 show there has been a significant decrease in illegal poisoning incidents at a time when some species are increasing rapidly and now number tens of thousands, the highest overall for nearly 100 years.
"This decrease is welcome, reflects serious partnership working in this area and needs to be sustained."