River Tweed plea to kill humpback pink salmon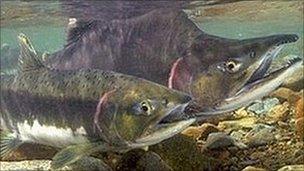 Fishermen in the Borders have been urged to kill and report any pink salmon seen in the region's waters.
Two males, with distinctive humped backs, have been caught recently.
It has prompted the Tweed Foundation to issue the plea to anglers to help stop the spread of the Pacific fish, which are an alien species in the area.
There are fears that they could colonise the river and affect stocks of the Atlantic salmon native to the waters.
Nick Yonge, of the Tweed Foundation, said there were concerns about the potential impact of the fish.
"They are not a native species, they are a species from the other side of the world," he said.
"We simply don't know what effect they would have."
He said the advice being issued was to kill any pink salmon that were spotted and to report the sighting immediately.
"The plants and animals and fish that live here naturally have evolved over hundreds of years to do that," he said.
"When an incomer comes and a new species arrives, it has the potential to become invasive in that it can spread and expand and breed very prolifically.
"Then it displaces the natural species - the ones that have been here for hundreds of years - and that causes disruption."
Related Internet Links
The BBC is not responsible for the content of external sites.