Youth Beatz fans flock to Dumfries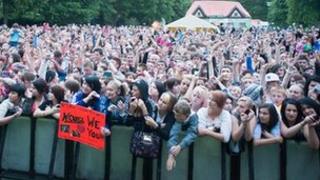 Thousands of music fans are set to attend a free music festival being held at the Dock Park in Dumfries.
More than 11,000 tickets have been given out for the Youth Beatz event being staged in the town on Saturday.
This year's festival is being headlined by Chipmunk, with other acts including Basshunter and Dumfries musician Emma's Imagination.
It is the third time the south west town has hosted what is thought to be Scotland's biggest free music event.
As well as the headline acts, a number of local bands will take to the stage throughout the day.
There are also a range of other entertainments and activities on offer.
Police have praised the event as "very well-run and very enjoyable".