Dumfries Peter Pan house project secures repairs funds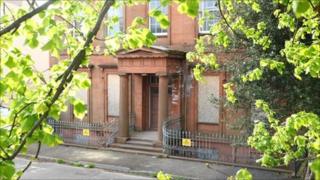 Urgent repairs funding has been awarded to the house which inspired JM Barrie to write Peter Pan after playing in its gardens as a child.
A grant of £250,000 is being given by Historic Scotland to help restore the Moat Brae building in Dumfries.
Plans were unveiled earlier this month to turn it into a national centre for children's literature.
The Peter Pan Moat Brae Trust said the funds would help undertake emergency works to the building.
The support was announced by Culture Secretary Fiona Hyslop.
'First steps'
She said: "JM Barrie comes from a long list of renowned Scottish writers who have delighted generations of children both here and around the world.
"It is a lovely idea that both the house and the garden that inspired him to write this story can provide inspiration for a whole new generation of children.
"A key part of this is stabilising the fabric of the building and I'm delighted to announce this grant to help begin this process."
PPMBT chairman Roger Windsor said he believed the project could "serve as a catalyst for the future regeneration of Dumfries town centre".
Development director Cathy Agnew said the funds would help in its goal of raising £615,000 before the end of the year to carry out emergency work.
She said it would let the trust take the "first steps to deliver this project and save Moat Brae".